Wednesday, April 27, 2022 In-Person and on Zoom
Minyan at 7:00 PM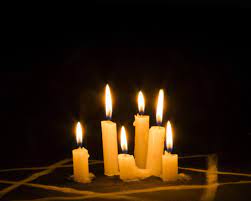 Program at 7:30 PM
The Legacy of the Czech Torah Scrolls
Light Beyond the Shadows
Presentation by Author and Photographer Sheila Pallay
Poignant words of Remembrance by Rabbi Alan Turetz

Readings by Jewish community students

Music by Cantor Michael McCloskey

Lighting of Yellow Candles
Touching a 250-year-old Torah scroll rescued from the Shoah launched Sheila Pallay on a life-changing journey that culminated with the publication of her book, Light Beyond the Shadows: The Legacy of the Czech Torah Scrolls and the Renewal of Jewish Life in Czechia, by the Memorial Scrolls Trust (MST).
Sheila's presentation will focus on the history and the future of Jewish life in the former Czechia as she describes her four-month travels through the former towns where Jewish communities once thrived. She will share some of her 2,000+ photographs that depict Jewish life eradicated by Nazism and hate but which also provide a hopeful look at the new Jewish communities arising in modern-day Czechia.
We are thankful that we can commemorate Yom Hashoah together in person this year, and via Zoom for those who cannot or prefer not to attend in person.
Join by Zoom:
https://us02web.zoom.us/j/84222916906?pwd=RTJEU2RoWGxoUTg1NnJpUDZkaXN4Zz09
Meeting ID: 842 2291 6906
Passcode: 317028